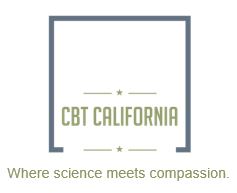 To Our CBT California Community
The killing of George Floyd by police officers in Minneapolis follows an unacceptable pattern of racism, violence and dehumanization against the Black community in not only our country, but across the world. Institutionalized racism and the systems of oppression which have existed as norms in our society are responsible for countless deaths, inescapable trauma, and a gross inadequacy of fair and equal opportunities for people of color. CBT California stands with the protesters and demonstrators, and with all those who have had their voices, their stories, and their humanity ignored for hundreds of shameful years.
As a company that cares deeply about our patients and our community, we have a responsibility to speak out against injustice and racism. As individuals, we feel the need to champion those who have been suppressed and victimized by these unjust systems and institutions. As mental health professionals, we recognize the pain and the suffering, the feelings of anger, fear, and distrust that are created by an unending cycle of oppression and hatred. CBT California is a practice/clinic where science meets compassion; all of us here understand that now, more than ever, there is a need for greater compassion and understanding of our community of color and for anti-racist allies to vigorously advocate for positive, meaningful change.
We are determined to personally do better, steadfast in our commitment to educate ourselves in order to fully recognize any deficiencies we may have exhibited in the past with regard to our own cultural ignorance and privilege. We pledge to bring greater self-reflection to our professional interactions, while continuing to outwardly work towards a more just, fair, and equitable society. It is not only our job as healthcare workers to care for those at risk and in need, but our duty.
Resources: