CBT California's January Newsletter
Happy New Year to All!
With the transition into 2021, CBT California is continuing to offer telehealth services and expand our service range throughout California in order to support and provide high quality therapy to those who seek it amidst this pandemic. Check out our website www.cbtcalifornia.com for more information on the types of services we provide and our blog for tips on how to cope with the COVID-19 crisis.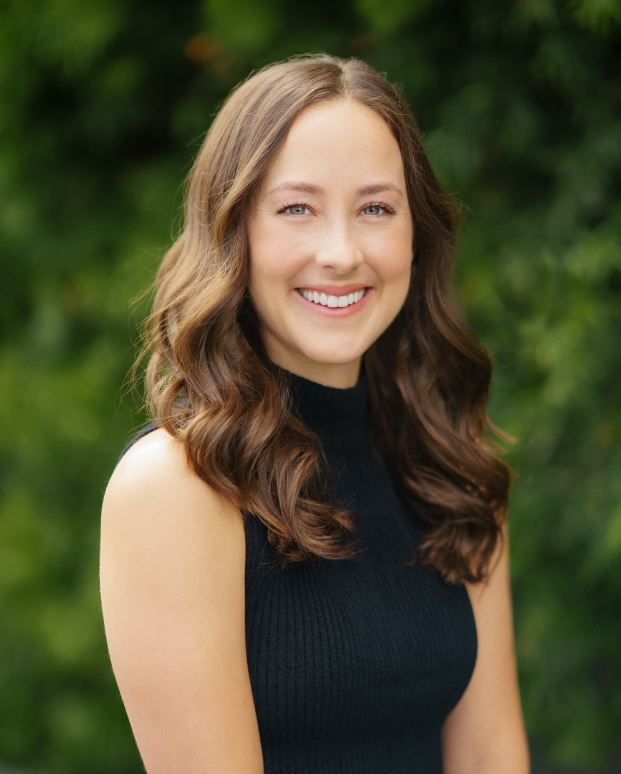 CBT California Staff Spotlight:
Dr. Christine Warren earned her PsyD in clinical psychology with an emphasis in family psychology from Azusa Pacific University in 2019. Her research, based in Nairobi, Kenya, focused on the short- and long-term effects of child abuse and neglect. This led to the creation of a training to educate caregivers on effective ways of shaping behaviors using developmentally appropriate and culturally sensitive disciplinary methods.
Dr. Warren completed her APA-accredited internship at Dallas VA Medical Center, where she developed a strong foundation in treating diverse presentations and specifically discovered her passion for working with older adults and individuals with concerns related to life transitions, death, and dying. During her postdoctoral fellowship in the Women's Mental Health Center at VA Long Beach Health Care System, Dr. Warren received specialized training in gender-specific needs and trauma-focused treatments.
Dr. Warren is committed to delivering high quality, evidence-based treatment. She is extensively trained in CBT, DBT, PE, CPT, ACT, and CBASP. She is also certified in CBT by the Academy of Cognitive Therapy. Dr. Warren is an adjunct professor within the Clinical Psychology PhD program at Alliant International University (LA Campus) and currently teaching CBT Approaches to Intervention.
Her clinical interests include treating post-traumatic stress, depression, grief, anxiety, emotion dysregulation, and relationship problems. Dr. Warren collaborates with clients to understand their experiences within the context of their unique biological, cultural, and societal systems. She is passionate about helping individuals live empowered, authentic, meaningful lives aligned with their values.
Dr. Warren sees adults, adolescents, and families in the Torrance, Newport Beach, and Beverly Hills offices.
Click here to learn more!
Research Corner:
How to cope with COVID-19
Curious about the psychological impacts of COVID-19? Check out this research article from the United Kingdom that investigated the relationship between "Intolerance of uncertainty" and mental health difficulties, as well as exploring effective coping strategies. To see more click here.
Rettie, H., & Daniels, J. (2020). Coping and tolerance of uncertainty: Predictors and mediators of mental health during the COVID-19 pandemic. American Psychologist. Advance online publication. http://dx.doi.org/10.1037/amp0000710
Words from our blog:
Don't believe everything you think!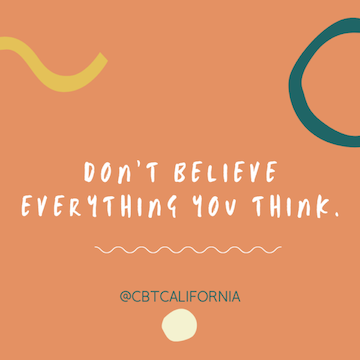 *PSA: Our thoughts are not facts!*
The truth is that thoughts are just thoughts. They are sensations of the brain that come and go. This statement is not meant to minimize the emotional impact that thoughts can have or to negate the factual information often associated with thoughts. These are both valid. The point is that thoughts are no more powerful than we will allow them to become. We are the ones who give them meaning.
Acceptance and Commitment Therapy (ACT) encourages people to "defuse" themselves from maladaptive patterns of thinking through a process called cognitive defusion. The goal of cognitive defusion is to help us change our relationship to our thoughts rather than changing the thoughts themselves. The idea is that we all have a tendency to over-identify with our thoughts, amplifying them in our minds to become "the truth." When we become so attached (fused) to thoughts in this way, it is easy to see how they can feel so compelling, but our thoughts do not dictate behavior. Just because you have a thought does not necessarily mean an action must be taken. Cognitive defusion involves creating space between ourselves and our thoughts so that we may evaluate if they correspond to reality. When we look AT thoughts rather than FROM thoughts, we have room to mindfully consider other sources of information (feelings, direct observations, physical sensations, etc.) before taking action. Cognitive defusion techniques enable us the ability to act flexibly and in accordance with our values.
To understand how cognitive defusion works, put your hands palms-up in your lap. Your hands represent your thoughts. Bring your hands up to your face to where they are almost touching your face and covering your eyes. Notice how hard it is to see much other than your hands. Very little information can get in through the gaps of your fingers. Imagine what it would be like to go about your day like this. How difficult it would be to navigate. Now, create some space between your face and your hands by returning them to your lap. You've widened your view. You can still see your hands, and now you can also see everything else in the environment too. Consider how much easier it would be to act effectively in this posture. This is defusion. We are pulling away from our thoughts just enough to see the bigger picture more clearly.
So, how attached are you to your thoughts? How much power are you giving your mind?
-Christine Warren, PsyD
CBT California at ISIT-DBT and ABCT Conferences-- November 2020
Conner, A., Robbins, J., Polack, A., Rush, Z., Montgomery, R.M., Kutschbach, C., Thomas, M., McFarr, L.M. (2020, May). An investigation of the relationship between parental stress, psychological flexibility, and mindfulness for caregivers in a Dialectical Behavior Therapy (DBT) parent skills program. Poster presented virtually at the annual meeting of the International Society for the Improvement and Teaching of Dialectical Behavioral Therapy Conference (ISIT DBT).
Previous research shows that caregivers of individuals struggling with interpersonal functioning and emotion regulation have increased stress and possible ineffective caregiving. It was hypothesized that the maladaptive responses may result from psychology inflexibility and lower mindfulness. In our study of 45 caregivers, the caregivers endorsed high levels of parental stress. Although statistical significance was not demonstrated, data showed high levels of stress trended toward lower levels of mindfulness and less psychological flexibility. Also, levels of mindfulness trended toward a negative correlation with psychological flexibility.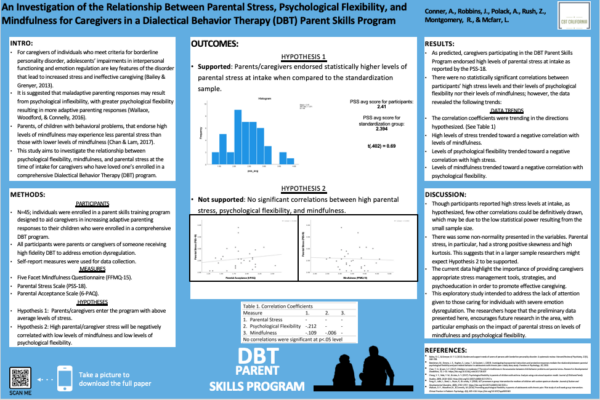 Chen, S., Rozmid. E., Montgomery. R.M., Polack, A., Thornburg, L., Thomas, M., and McFarr., L.M. (2020, November). An examination of associations among substance use urges and the use of specific Dialectical Behavior Therapy skills as reported in daily diary cards. Poster presented virtually at the annual meeting of the International Society for the Improvement and Teaching of Dialectical Behavioral Therapy Conference (ISIT DBT).
Research shows that nearly half of the individuals diagnosed with borderline personality disorder have comorbid substance use disorders. However, research shows mixed results when linking emotion regulation and distress tolerance to reduced substance use frequency. Our study explored the changes in substance use urges from pre- to post- treatment and found significant reduction in urges. We also explored the associations between DBT skills and urges. Our findings show that when clients had higher urges, they used more skills within that week. The skills used most often during weeks of high urges were problem solving to change emotions, checking the facts, self-soothing, opposite action, find others and get them to like you, pros and cons of acting on urges, distracting: Wise Mind ACCEPTS.
Parent Group Beginning late January
Do you find yourself struggling to support your loved ones? Maybe you are not sure how to help or say the right thing? Dr. Schneider will be leading a 14-week DBT parent skills group beginning in late January. If you would like to learn more about the details of the group, please reach out to us at info@cbtcalifornia.com or call at 800-624-1475!
View the latest issue of DBT Bulletin

here

!